Establishing a good harvesting team is very important and every farm needs a good leading example with eye for details to lead that process. A good harvest management can make or break all the efforts from earlier stages. What is a good starting point and where are improvements possible?

Of course the best starting point is knowing and realizing what benefits selective picking can bring. As explained in my earlier blog a mushroom grows rapidly and doubles in weight every 24 hours. In an ideal situation that means harvesting 24 hours would be the most beneficial. Every time when the mushrooms reach their maximum size they get picked and every pass the pickers do, space is created for the other mushrooms so that as many possible mushrooms can reach that maximum size. What that maximum size is depends also on the market. Of course that is hard to manage to harvest 24 hours but some companies make it work and see huge improvements in yield and quality. When you do a trial yourself on a few square meters and see how much more yield you can get when you only pick the mushrooms when they are ready to be picked, the results will be stunning. I did it myself one day on a big farm where they were harvesting already on a reasonable level in 2 shifts and still got 43% (!) more yield. Now that is hard to do with all the pickers on big farms but it shows the potential and importance of good training, managing and planning.

My experience is that on a small farm the owner is more involved in the daily operations, the amount of pickers is lower and therefore the results in yield and quality are better than on many big farms where managing the people is a bigger task.

Training and a good system will bring you many advantages and a quality that stands out. Every farm should have a designated trainer that will train new pickers into perfection. Remember that it's easier to train a new picker when you spend the time then retrain pickers with bad habits. When new pickers come to join the team they should have a motivated coach and someone with know-how who can explain the selective picking way into detail. Training pickers on selective picking in their first weeks is more important than the speed they pick. As most of the farms pay their pickers per kg, they will pick up the speed later. In a lot of farms, the best picker is always related to the one with the best picking performance based on speed, but is that so? Try to measure how many total kg every individual picker makes every week. You will find out that some pickers harvest more total kg than others, those pickers bring you more yield and are more valuable for the farm as the fastest picker.

Planning rooms according the expected daily production is very important in the process of selective picking. Selective picking requires that only the mushrooms that need to be harvested are getting picked, not more. Picking too small in the morning because there are too many pickers in the room or because the same pickers have to go to other rooms will cost production. Try to plan in every single room the needed amount of pickers so that each room can harvest the entire day. Another advantage of that is that you can start in the morning some pickers already in the 2nd and 3rd flushes instead of doing that later and loose already quality. On many occasions the 3rd flushes get only harvested at the end of the working day when mushrooms are already soft and opening, not very good for quality and yield at all!

First important step to learn would be to estimate the total production of the day and the picking performance of the available pickers. That will give you the total needed hours to harvest the room. If you divide that number by the required picking time you get the total of pickers needed for that day, in that room. See below an example of a set-up for your daily production planning.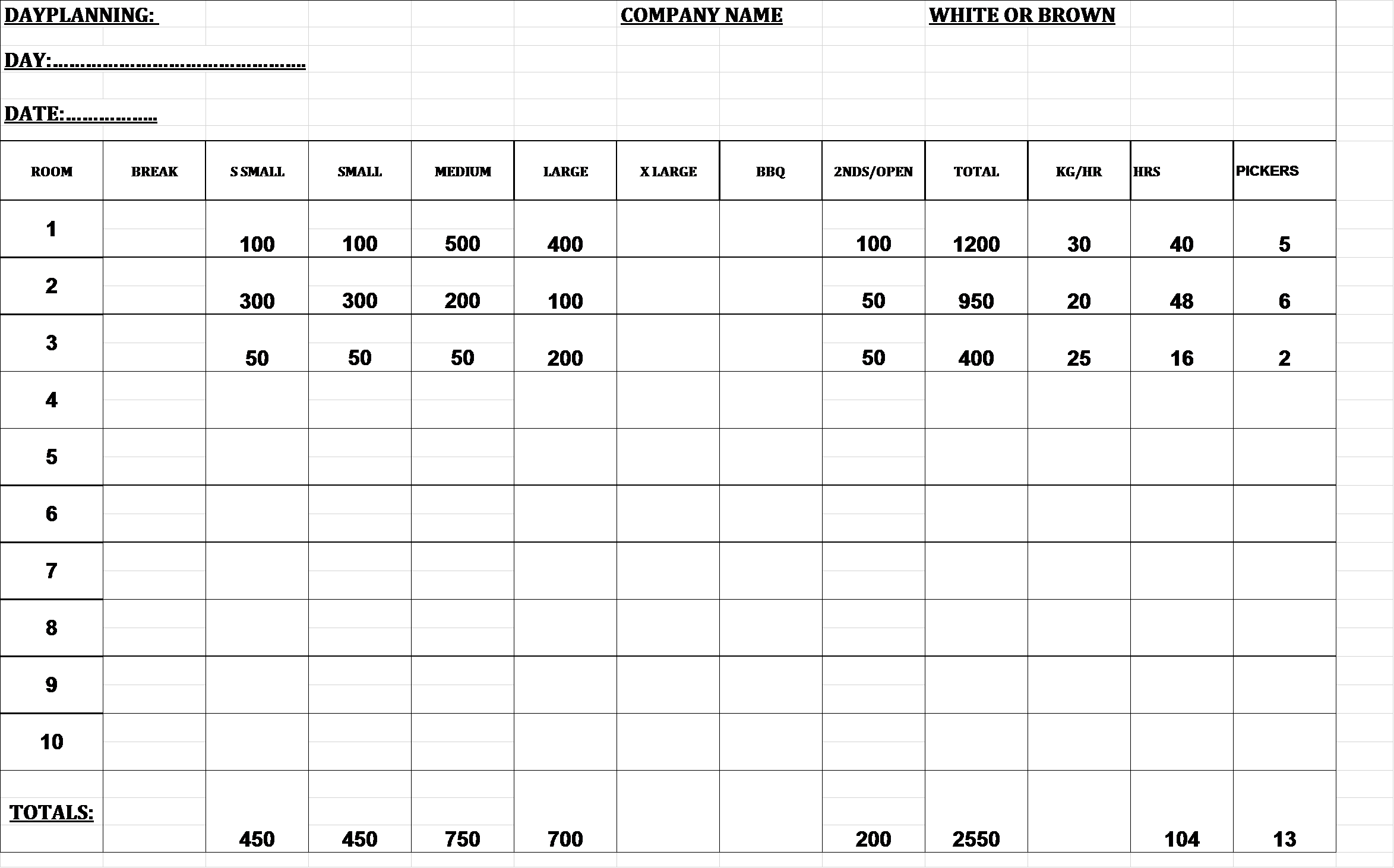 Every room is planned on the total expected kg, picking performance and based on that information, in the last column the total amount of pickers needed for that day in the individual grow rooms, based on an 8 hours working day.
That way you will give the mushrooms the required time to grow. Every hour a mushroom will grow 1mm and in weight 4%. Every pass the pickers make they should only pick those that are ready and leave the others. Picking down a room with nice quality mushrooms to 50 mm early in the day because they are not getting harvested until the next day, is disastrous for yield. Even when you have only 1 room to pick for the day, plan the amount of pickers so that you make advantage of the growth of the mushrooms during all day.
To introduce the picking method on your farm will be a process that, depending on how you manage this, will take some time. See it as an investment for the future but definitely worth doing. The benefits will be huge and in a competitive market necessary for every farm to compete.

Erik de Groot
GLAGS Global Agriculture Services
This email address is being protected from spambots. You need JavaScript enabled to view it.