NirMeiri Studio
Founded in 2010 by designer Nir Meiri, Nir Meiri Design Studio offers an out of the ordinary approach to everyday objects.
Carefully selected materials are shaped into clean-cut forms, creating innovative products that play on the tension between the domesticated and the untamed.
Amazing to see how Nir Meiri has achieved to create beautiful lights of Mycelium and Metal and in the shape of our beloved mushroom as well!
This project is a result of an ongoing material research in mycelium -the vegetative part of the fungus -resulting in the design of table lamps collection. Mushrooms or fungi are truly wondrous organisms with significant untapped potential. Mycelium consumes organic and synthetic waste to grow into desired shapes and different types of waste alter its properties. This could have highly significant implications for ridding our planet from the mountains and islands of synthetic waste.
When lit, the light project on the mycelium from below and glows back as soft natural light.
Size: Height 30 / 35 / 40 cm, Diameter 30 cm
The inspiration for this design comes from the fungi itself, resulting in 'a little garden of lights' imitating the shapes of mushrooms growing in the wild.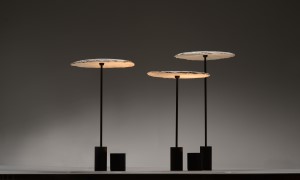 This project is a collaboration between Nir Meiri Studio and BIOHM- a London based startup working on developing sustainable solutions for the built environment.
The mycelium lights collection has been launched during London Design festival 2018 in 2 different locations:
The first was an exhibition at 'Sustainable Bankside' as part of a show gathering selected sustainable companies to showcase cutting edge designs and ideas. The second exhibition was at 'Open Cell' as part of a curated showcalled 'BIODESIGN -HERE NOW'.
For more information or to view Nir Meirifull product portfolio, please visit www.nirmeiri.com.